I think that being an even mostly self sufficient household in the suburbs is a pretty mean feat to pull off. Some friends of ours two streets away are about 70% self sufficient in fruit and veg on their ordinary-sized domestic Canberra block, but goddamit, it's a lot of work. Although it's true that all veg you grow yourself is going to be a lot better than something you can find in the stupormarket, some things massively over-reward you for the effort you put in. That's what we try to focus on in our own gardening – things that aren't easy and cheap to get fresh, and that are particularly delicious when grown organically and harvested when perfectly ripe, like globe artichokes, asparagus, berries, etc.
Clockwise from 12 o'clock – Vietnamese mint, Vietnamese Basil, a flower and common mint.
We grow at least 20 varieties of culinary herbs, and at this time of year we eat something from the garden every day. The asparagus has finished long ago, but the eggplants are just flowering, and there's rhubarb, sorrel, celery, beetroot, Malabar spinach, gherkins to preserve and chillies. Our Jerusalem artichokes have gone completely beserk and are more than 3 metres tall, twice the maximum height given in my new gardening book.
I planted three heritage varieties of summer squash this year to defeat the "omg I fucking hate zucchini" thing that happens when you are insufficiently vigilant.
But the classic big pay-off Summer crop is of course, tomatoes.
I eat a few cherry tomatoes occasionally out of season, and I eat preserved tomatoes year round, but there is a real tomato gorging going on around here at the moment. The kitchen garden crew made bruschetta for the parent information night at my son's school last week, and I worked out afterwards there were nine varieties of tomato in the mix (on home-made bread, with a little very good olive oil and salt). People went nuts for it, as you can imagine.
Clockwise from top left: Black Russian, golden grape, tommy toe, green zebra, tigerella, an amazing yellow oxheart variety I don't know the name of and black krim.
This year I've been experimenting with different ways to support growing tomato plants, in a quest to find the One True Method of Tomato Supporting. I made one metre round towers of 100 mm square wire 120cm high, but despite my high hopes they turned out to be pissweak and unable to cope with the weight of the ripening fruit. While picking was easy from the middle of the tube up, the bottom had way too much foliage and there was fruit on the ground which meant slaters and fruit flies and the deep sadness that is homegrown heritage breed tomatoes in the chook food.
I've also been experimenting with tomato preserving this year, and so far I have a frozen pureed roasted tomato sauce (with beetroot, carrot, bay, butter, red wine and vinegar), one precious cup-sized jar of tomato paste cooked down from a couple of kilos of San Marzano tomatoes I grew from Digger's seedlings and most excitingly, several jars of passata.
Last year a lovely friend gave me a manual Italian tomato press, and I am in love with it. If you have to look after an end of Summer school holidays glut from a school garden, the "passatutto" considerably speeds things up. Even things like this:
If I were telling someone how to stock their kitchen, I would tell them to get a tomato press and a potato ricer and not to get a food mill. It is so simple a child can use it.
So if anyone who lives in Canberra would like my food mill, leave a comment.
Things got on a roll, as they do, and last Saturday morning my sister's lovely elderly Italian neighbours invited us around to see how they did their tomatoes and to do some of our own. I'd read a squillion accounts of "passata days" but was still unsure how exactly to go about it. I knew that seeing it done by experts would be really helpful, and Angelo and Jenny were happy for us to join in.
They are completely delightful people, and the mental passata pieces fell into shape as I worked out what to do with the puree to ensure it was safe and would last the family a year. Put the puree into clean (not sterile) dark glass bottles, leaving a substantial air gap and cap them with crown seals (almost all home brewers will have ths equipment, and if you don't know a brewer it's all easy and pretty cheap to track down and use). Pack a large stock pot, Vacola boiler or 44 gallon drum with bottles laid sideways (aha! she says! sideways! that was the missing bit of information ! HOW VERY CUNNING!) with towels tucked here and there so the bottles don't smash or make irritating jiggly-scrape-y noies. Bring it all slowly to the boil, boil for an hour and don't remove the bottles until everything is completely cool – that might be the next afternooon.
During this period, lucky people will be taken for a burn in a 94 year old Ceirano, one of two of that model remaining in the world, and the only one in working order.
Some more pictures from the day follow, and even more for the very keen here.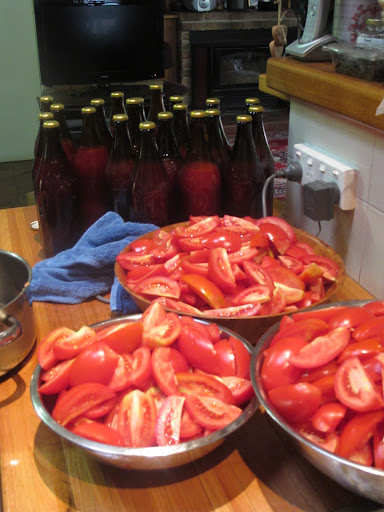 The electric machine is very sexy and cool, but they they cost exponentially more than the $40, entirely satisfactory, manual one. The manual one really comes into its own when you're processing a couple of kilos of tomatoes each week as they become ripe rather than having a crazed tomato frenzy.
What I really noticed, apart from the smell of properly ripe tomatoes and the extreme comfiness of the backseat of a WW1 era touring car, is that there is a kind of learning that no amount of book-learnin' will get you. You have to watch, and talk, and muck in and ask questions and then you'll start to work out what's going on.